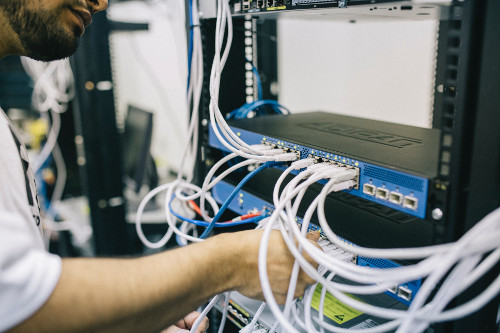 1. Businesses Are Prone To Cyber Attacks
As we noted, organizations are under cyberattacks left and right. It almost doesn't matter how much good you do for your consumers. If you are connected to the internet, you're likely to be open to hackers who can put your system under some kind of attack - it doesn't have to be a traditional hack either.
Some hackers are more than happy to do distributed denial of service (DDoS) to your business. DDoS attacks can be problematic as these can prevent legit customers and members of the team from accessing content. Even with an attack that lasts a minute, a decently sized chunk of your profits may vanish from the attack.
With the right cybersecurity tools, you can close loopholes in your current business environment. You can get a VAPT (Vulnerability Assessment and Penetration Testing) done to see any potential issues within your IT infrastructure, including updating plugins that hackers may use to connect to your system.
2. Internet of Things (IoT) Can Be Insecure
Internet of Things (IoT) refers to ever-connected network devices that gather data through sensors and communicate via a network. With the goal of creating smarter businesses, IoT devices are powerful pieces of tech. They are also commonly more vulnerable than most systems.
IoT technology can simplify tasks and improve an organization's general agility. There's also a multitude of exploitable devices in your company. Even if you don't have IoT in your organization, remote workers can still put your system in danger.
Freelance professionals need better protection from potential cyberattacks, as well as phishing and hacking. You want to make sure to manage all devices properly and create a multi-tier system for databases and encrypted connections. This can protect your systems from a potential ransomware attack, as well as data theft.
3. Cyberattacks Have A Heavy Financial Burden
The cost of cyberattacks is becoming bigger and bigger, especially for enterprise businesses that handle customer data. Those who understand user privacy know the value of customer information and why protecting it is a must. The cost of a data breach can go anywhere from a few thousand dollars to millions, depending on the data.
The actual financial impact of a data hack comes from the damage to your reputation. It's hard to gain back the trust of your customers, more so if you exposed client information to a hack. Threats are more sophisticated than ever, so losing client information could have a huge business impact.
Businesses big and small need to build robust systems that can detect and alert if their systems are compromised. They would also need to ensure that compromised systems are fixed on an urgent basis, including patching vulnerabilities as soon as possible.
4. End-Users Are At Risk
As computers are becoming smarter and more powerful every year, not everyone is savvy enough to learn all its ins and outs. The end-user is one of the biggest, if not the biggest, threats to enterprise security. In many instances, they commonly click malware, phishing emails, and have lax passwords.
In a small business, it can be easier to educate people who may be at hacking risks. In big enterprises, however, everyone from your accountant to c-suites may be too ignorant or stubborn to follow IT protocols. Phishing and lax passwords are some of the most common reasons why ransomware attacks happen.
As sad as it may be, you shouldn't rely on people to protect your system. Cybersecurity measures like antivirus, antimalware, and anti-phishing solutions should protect your users from bad-faith actors. Security education can also be a valuable asset that you may use.
5. Cloud Attacks Can Happen
Much like IoT, the Cloud is another powerful technology that has grown exponentially in use over the past few years. Almost everything from word processors to photo storage is in the cloud, so companies are dependent on it. The problem with the cloud is the chance for hackers to intercept crucial information.
Many companies use the cloud to store applications, source codes, passwords, and even personal data. Sudden loss of this data can be problematic, especially if there is very little offline storage available to the business. Those who can breach these cloud-based storages can also gather a lot of crucial company data.
When it comes to the cloud, proper protection means ensuring you have cloud encryption, as well as cloud support, backups, and recovery services.
6. Legislation and Regulations Are Getting Tighter
More and more businesses and websites are asking for more customer information via tracking cookies and the like. At the same time, countries are creating more and more legislation to protect the average consumer. The introduction of regulations like GDPR means businesses should start prioritizing cybersecurity.
Companies and websites need to be compliant with these regulations or expect heavy fines otherwise. Many of the measures required by such regulations include appropriate measures to protect personal data from hackers. There's also a need to review controls, together with investigating potential breaches.
The GDPR is only the start of stricter regulations and compliance requirements for businesses. More legislation will likely come out in the future. Setting up your cybersecurity layer now can help you prepare for the future. It can help future-proof your business and prevent any sudden changes to your daily operations.
The Bottom Line
Cybersecurity is more important now than ever before. We are at the cusp of ever-improving technologies that can empower your organization. At the same time, malicious threats are always at bay, waiting to get your valuable data and potentially cripple your operations for their own gain.
Fortify your cybersecurity not only with new tech but with cybersecurity professionals that can protect your business. Whether you hire freelancers, consultants, or in-house teams, bolstering your security today will pay dividends tomorrow.